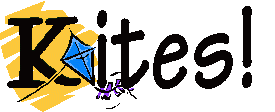 KITES! start up in 1995 as Alberto Bonati and Andrea Casalboni cooperation to promove kites and kite aerial photography (KAP) on Internet.
From then our web site grow with articles, plans and photography about this subject to help and guide anyone want to begin this beautiful hobby.
On 2004 KITES! double himself developing modern kites section on this new part edited by Alberto Bonati, KAP and Historical Kites sections are on Andrea Casalboni's pages as usual.
For this occasion all plan pages has been revised on new look and added with new soft kite plans.
Moreover, bulgarian translation of pages came from my wife Iskra passion on kites....
Have a nice tour on KITES!
Alberto Bonati